Top 10 Makeup Brush Manufacturers in 2022
Introduction:
TaikiUSA helps companies make a statement with their own private label cosmetic brushes. Work with us to develop and produce turn-key products with full-service support from design to delivery. As a leading makeup brush manufacturer for over 90 years, Taiki continues to introduce new technologies and innovative designs that help makeup and skincare brands own the application process. Our design and consulting experts help with every step of the process
Headquarter: USA
Introduction:
Pennelli Faro S.r.l. is an internationally recognized manufacturer of brushes and accessories for fine arts and cosmetics.
Pennelli Faro has the headquarters and the entire production process in Italy, located in the historic and traditional brush manufacturing district of the Cremona area, producing some of the finest brushes on the market since 1971. Ecology is an important aspect we always keep in mind. We respect the environment around us and our products do not contain any substance dangerous for human beings or nature. Our premises are environmentally friendly and the energy is supplied by our geothermic plant of solar panels with zero emissions.
Headquarter: Italy
Introduction:
JSIU is a manufacturer specializing in providing wholesale makeup brushes because we know that in the current global trade, Chinese makeup brush manufacturers have more advantages than any other country's production. As we all know, the makeup brush suppliers in China provide products with better quality, cheaper prices, and more varieties. Choosing their products can bring more profit growth.
Headquarter: China
Introduction:
"MyColor" aims to help everyone discover and love their own beauty. We have a passion for makeup and are committed to developing and manufacturing high-quality makeup brushes at affordable prices. After about 10 years' experience, now we have many private moldings and patents. Your OEM/ODM orders are also welcomed.
Our "Jessup" Cosmetics are selling very well all over the world through amazon, aliexpress, eBay, Etc.
Our products are highly praised by many big brand companies, such as MAC, RIMMEL, BOBBI BROWN, MAYBELLINE and more from the US, Italy, Australia and UK areas, etc.
Headquarter: China
Introduction:
Established in 2008, SoMakeup has expanded to a large plant occupying 3000㎡ & houses more than 300 experienced workers.
Our product range covers make-up brush sets, powder brushes, blush brushes, eye shadow brushes, lip brushes, blender brushes, nail brushes.
With our capability in OEM/ODM orders, product development, manufacturing, product packaging and shipping, we are proud to offer one-stop cosmetic brush solutions to brand owners and makeup brush wholesalers just like you!
Headquarter: China
Introduction:
Shenzhen Jafon Cosmetic Accessories Co., Ltd. is the manufacturer and exporter of all kinds of beauty products, such as professional make-up brushes set, powder brushes, blush brushes, eyeshadow brushes, lip brushes, blender brushes, nail brushes, art brushes, etc. and accessories. We can offer OEM, ODM services for different clients.
Our factory was established in 1998, located in the beautiful city of Shenzhen in China. And we are near Hong Kong, enjoying the convenient traffic. With 16 years of experience, we have supplied professional beauty products at a competitive price. We own a factory with more than 300 employees. Our efficient equipment ensures us the ability to make many kinds of cosmetic brushes and accessories. We produce a new cosmetic brush every week.
Headquarter: China
Introduction:
Global custom private label makeup brushes manufacturer-your own brand name innovative & creative workshop, each brush is individually handcrafted by very skilled craftsmen and created with function in mind. Our private label brushes are of the highest quality to ensure the perfect makeup application. Whether you are applying face, cheek or eye makeup, our makeup brushes will give a precise and flawless makeup application.
The customizing private label makeup brushes including powder brushes, bronzer brushes, contouring brushes, highlighting brushes, cheek blush brushes, liquid foundation brushes, tapered eyeshadow blending brushes, eye crease brushes, eye shader brushes, smudge brushes, brow brushes, eyeliner brushes, lip brushes, fan brushes, body polishing brushes and various professional artist makeup brush sets, we only select the high quality raw materials and several-decade-year of rich brush hair producing experiences to produce the finest quality professional makeup brushes with fashionable design, exquisite handcrafted workmanship.
Headquarter: China
Introduction:
Kingyin is a professional Chinese makeup brush factory, with more than 15 years of experience in makeup brush production and custom makeup brushes OEM service for worldwide customers and brands.
Kingyin is ISO9001 certified, UKS audited; with standard workshop, strict quality control and management system, which can ensure makeup brush production and quality. 90% of Kingyin makeup brushes are sold to overseas-USA, Europe, UK, Korea, India, Brazil, etc.
Headquarter: China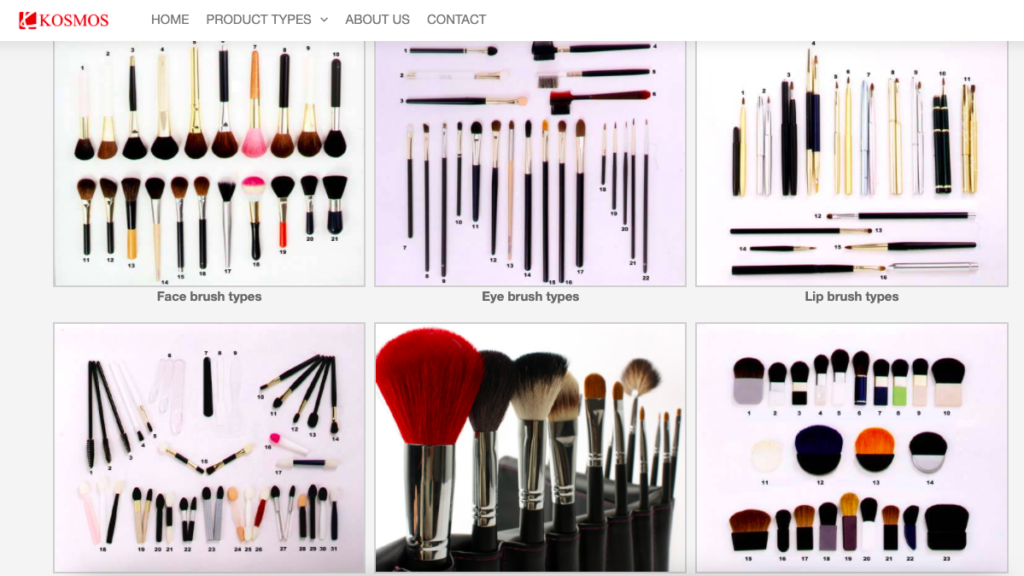 Introduction:
Shenzhen City Kosmos Beauty Co., Ltd. is a private label makeup brush manufacturer and supplier, located in Longhua District, Shenzhen city, China. It serves customers to create makeup brush lines with their own brand names and logos. The team has been in makeup brush manufacturing and international business activities for a long time, ensuring effective communication and good quality products for worldwide clients.
Our clients include large organizations as well as small start-up companies and makeup artists. We look forward to developing more business with current clients and new customers, to satisfy your market requirements.
Headquarter: China
Introduction:
Shenzhen Karina Makeup tools Limited (Karina) is one of the renowned makeup brush manufacturers in China. Established in 2010 in Guanlan, Shenzhen, our makeup products are not confined to just makeup brushes, but we also offer foundation brushes, lip brushes, blusher brushes, powder brushes, cosmetic bags, etc. Please visit our "products" tab to know our range of makeup products. Our customers receive the products in a maximum of 10-45 Working Days.
Because of our makeup brushes, we have won several awards and are the priority for Makeup brushes for professional makeup artists all over China and around the world.
Headquarter: China
https://www.youtube.com/watch?time_continue=2&v=N5UBhV25LrM