Top 5 Custom Hair Brush Manufacturers in 2021
Planning to import hair brushes from the world's famous brand? In this guide, we list 5 manufacturers producing both custom-designed (OEM) hair brushes.
Listed Companies
JSIU
Vickky
BoomHome
Tongsan
QiLin
1. JSIU
JSIU is a manufacturer specializing in providing custom hair brushes because we know that in the current global trade, Chinese hair brush manufacturers have more advantages than any other country's production. As we all know, the hair brush suppliers in China provide products with better quality, cheaper prices, and more varieties. Choosing their products can bring more profit growth.
Address: 10F, Hi Tech Park, 1528, JiangNan Road, Ningbo, 315048, China
Phone: +86-574-27889688
E-mail: sales@www.hair-brushes.com
Website: https://www.hair-brushes.com/
2. Vickky
Inherent Advantage
Vickky is located in HuZhou, near Shanghai, Hangzhou and Ningbo. This is almost the most convenient location for sea, land and air transportation.
China still has huge potential for raw materials and labor costs.
Acquired Advantage
150 workers specialize in hair beautyproducts producing.
Vickky's annual output value is $ 20 million.
OEM, ODM Acceptable.
Vickky has experienced mould development capability and can modify product design and packaging for our customers.
Vickky services are constantly being innovated and upgraded in a market where prices are semi-transparent.
Over 250 customers all of the world from hair beauty industries constantly confirm the confidence in Vickky, and the number is continue rising.
Address: NO 200 XINZHU ROAD HUZHOU,ZHEJIANG,CHINA
Phone: +86-572-2127197
E-mail: info@vickky.com
Website: https://www.vickkybeauty.com/
3. BoomHome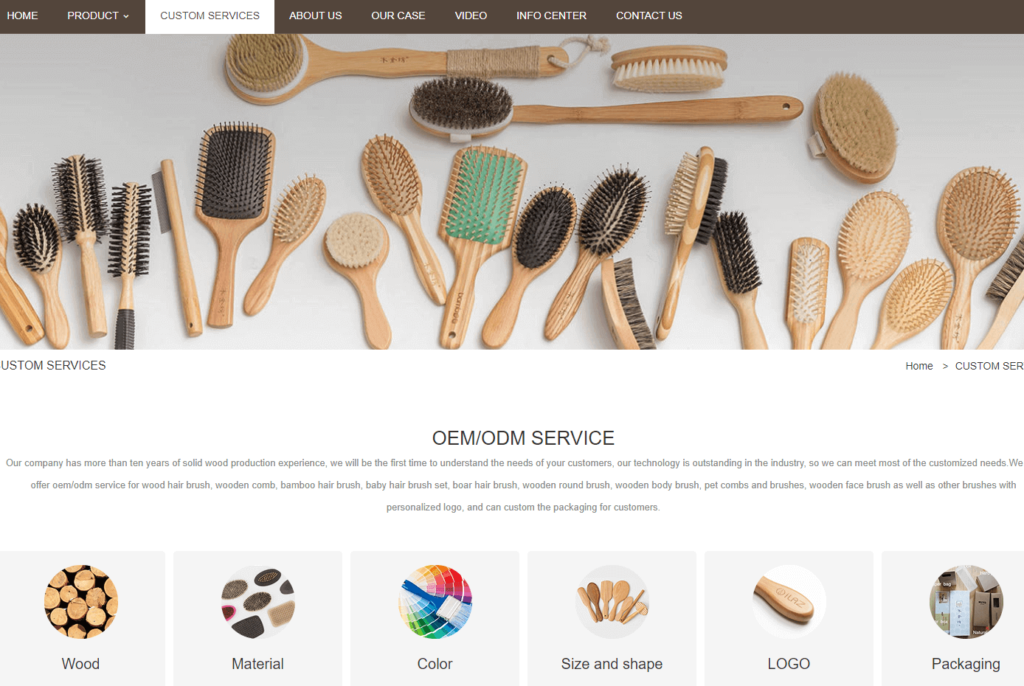 Established in 2007, Ningbo Haishu Boom Home Co., Ltd. is a professional mature enterprise, specializing in the production of wood combs and brushes and other wood products. The company is headquartered in Ningbo, Zhejiang, and has many factories in Zhejiang, Fujian and other places. It is a professional manufacturer to provide a variety of household goods in the Chinese market and overseas market.
Our company has more than ten years of solid wood production experience, we will be the first time to understand the needs of your customers, our technology is outstanding in the industry, so we can meet most of the customized needs. We can offer OEM/ODM service for a wood hair brush, wooden comb, bamboo hair brush, baby hair brush set, boar hair brush, wooden round brush, wooden body brush, pet combs and brushes, wooden face brush as well as other brushes with personalized logo, and can custom the packaging for customers.
Address: No.128, Xinfu Road, Gaoqiao Town, Haishu District, Ningbo City, Zhejiang Province, China
Phone: +86-574-88141517
E-mail: sales@boominhome.com
Website: https://www.boominhome.com/
4. Tongsan
Ningbo Tongsan Daily Necessities Co., Ltd specialize in manufacturing wooden hair brushes, bamboo hair brushes, shaving brushes, round roller hairbrushes, dry body brushes, bamboo bath brushes, boar bristle hair brush, wood comb, bamboo comb, bamboo wood pet grooming brushes, bamboo wood dish brush, etc. located in Ningbo, China.
Address: ShangWang Industrial Zone, ShiQi Town, HaiShu District, Ningbo 315155, China
Phone: +86 15268383354
E-mail: info@woodenhairbrush.com
Website: https://www.woodenhairbrush.com/
5. Creative Art
Dongguan QiLin Hairdressing Products Co., Ltd., a professional manufacturer of hairbrushes, combs, body brushes, shaving brushes, edge brushes, hair roller, barber capes and other hairdressing accessories, was founded in 1997. For more than 20 years, QiLin has been one of the leaders in the hairdressing product line. We have our own brand "Creative art".
Our products include hair brushes, hair combs, hair straighteners, hair curlers, hair scissors and other hairdressing accessories. Our products sell well in many countries and regions, including North America, Europe, South America, the Middle East, Asia, Africa, Australia and so on. Please feel free to contact us for further information.
Address: Room 403, Bldg. A, Xinjidi 360 Internet Ind. Zone, No. 163, South Of Dongcheng Middle Road, Zhushan Community, Dongcheng Street, Dongguan, Guangdong, China
Phone: +86-0769-27229711
E-mail: sales@ql-hairbrush.com
Website: https://www.ql-brush.com/
The Bottom Line
We have discussed the top 5 manufacturers of custom hair brushes. All these companies provide high quality hair brushes. All have a different design, benefits, etc. But the most important thing is their support and reliability. They make brushes according to safety standards.
If you have hair brushes needs, you can contact us, we will provide you with help and give you the best solution.